Melbourne is the capital city of Victoria, a coastal state home to more than 2,600 newly founded companies and a startup sector that rivals its tourism sector in size.
Airline connections for Melbourne
Melbourne is one of the most cosmopolitan and multicultural cities in the world, with an ever-growing list of direct air links. Servicing more than 305 million passengers annually, Melbourne Airport is Victoria's gateway to the world.
24/7 INTERNATIONAL AIR ACCESS
Melbourne Airport operates around the clock and is a 20 minute drive from the city centre.
AVALON AIRPORT
In 2018, Melbourne's secondary airport, Avalon Airport, also began welcoming international flights through carriers Jetstar and AirAsia. Avalon Airport currently welcomes twice daily flights from Kuala Lumpur, with new routes across Asia to be announced in the near future.
EASY ACCESS FROM EUROPE & AMERICAS
Delegates travelling from the North or South America will transition through Los Angeles, San Francisco, Santiago or Vancouver for a direct flight to Melbourne or an alternate international hub with direct flights to Australia. Delegates travelling from Europe will transition through an international hub such as Dubai, Singapore, Hong Kong, Kuala Lumpur or Bangkok.
ASIA PACIFIC
For delegates travelling from Asia, direct flights are available in abundance across all major airlines, with new routes constantly being added.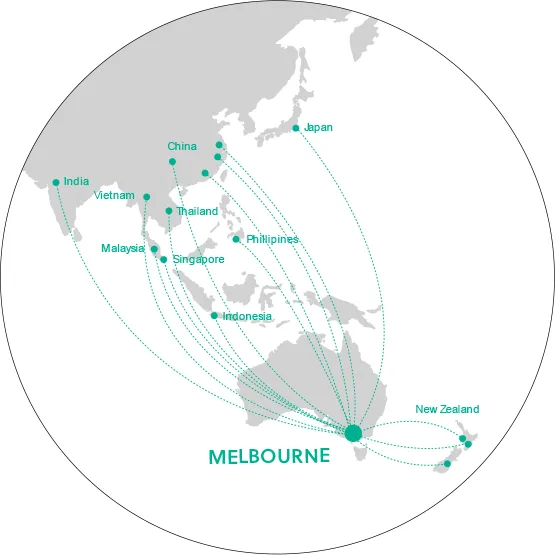 International airlines fly direct to Melbourne
Destinations direct to melbourne
Direct international flights per week
Things to do in Melbourne